Login
Log in if you have an account
Register
By creating an account with our store, you will be able to move through the checkout process faster, store multiple addresses, view and track your orders in your account, and more.
Create an account
Test Products for (Highly) Sensitive Individuals
12 Jul 2023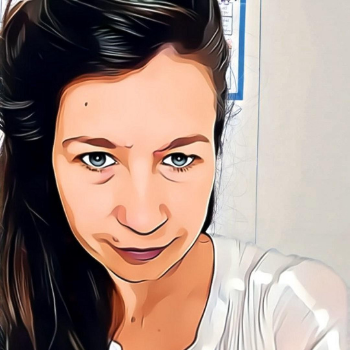 Hi I am Sandra from France. Besides running this lovely little store called Les Crodiles, I am fortunate to be a mother to two girls, nearly 5 and 3 years old. From a young age, my oldest daughter has experienced certain sensory difficulties, particularly related to touch, which I pay special attention to due to my profession and professional experience. However, just like many people, I initially thought they were just "quirks" because information about these sensory sensitivities is not widely spread.
This is how it all started for us! The first thing that caused "issues" was... socks! Texture, toe seam placement, height... Everything could be a problem, and honestly, I didn't have the time or energy to deal with these morning dramas before school. Another thing quickly added to the sock problem... underwear! The label, the seams, the elastic... Everything caused tears. Another aspect that made me think about her tactile sensitivity was the fact that she has refused to wear tights from a young age because the sensation is too uncomfortable for her.
Like any mother, I began researching, primarily on Instagram (I admit!) but also consulting occupational therapists specialized in sensory integration. I received valuable advice and gained a better understanding of my daughter's sensory experience.
I also scoured the internet in search of underwear suitable for hypersensitive children and came across a brand specialized in clothing for highly sensitive individuals. I recommend this brand SAM sensory & more to those who ask me for recommendations! 
After a pleasant conversation with the founder, I received samples, including one of their well-known underwear and a pair of socks. And so, my oldest and I embarked on a "product test," just like many people do every day! Please bear with us, as we will convey our impressions to you in the simplest, honest, and transparent way.
ENOUGH CHIT-CHAT... IT'S TIME TO TELL YOU MORE ABOUT THE BRAND SAM SENSORY CLOTHING! Behind this name lies a mother's story - oh, motherhood often brings us back to ourselves...
An Luyten & Kids
An Luyten is a mother of two boys, one of whom - being highly sensitive - clearly communicated his clothing preferences from the moment he could speak. The many unworn clothing items in her son's wardrobe made her realize the impact clothing has on hypersensitive children. She contacted a fashion designer to create products that would genuinely help (over)sensitive children. Together with psychologist Wim Tops, An formed a discussion group consisting of therapists, educators, speech therapists, and teachers. Their tips and advice clearly guided the development of the SAM collection!
A COLLECTION OF SUSTAINABLE, QUALITY, AND SENSORY-FRIENDLY PRODUCTS! BYE BYE ITCHY CLOTHING - HELLO SAM
SAM sensory & more is a brand that offers clothing, underwear, and accessories adapted to the needs of hypersensitive children, teenagers, and adults! This means... soft, low-stimulation, without labels, scratchy or rough seams! The promise to put an end to the terrible feeling of irritation and itchiness!
MY OLDEST TESTED THE UNDERWEAR AND THE SOCKS!
Before sharing her own words about her experience, it is important to mention that the received sizes were too big for both the underwear and the socks. We received size 13-14 years for the underwear and size 32-36 for the socks, while we currently wear size 6-8 years and 27-30. So, the products didn't fit perfectly, but we could still evaluate the material and her experience wearing the underwear and socks!
GIRLS' UNDERWEAR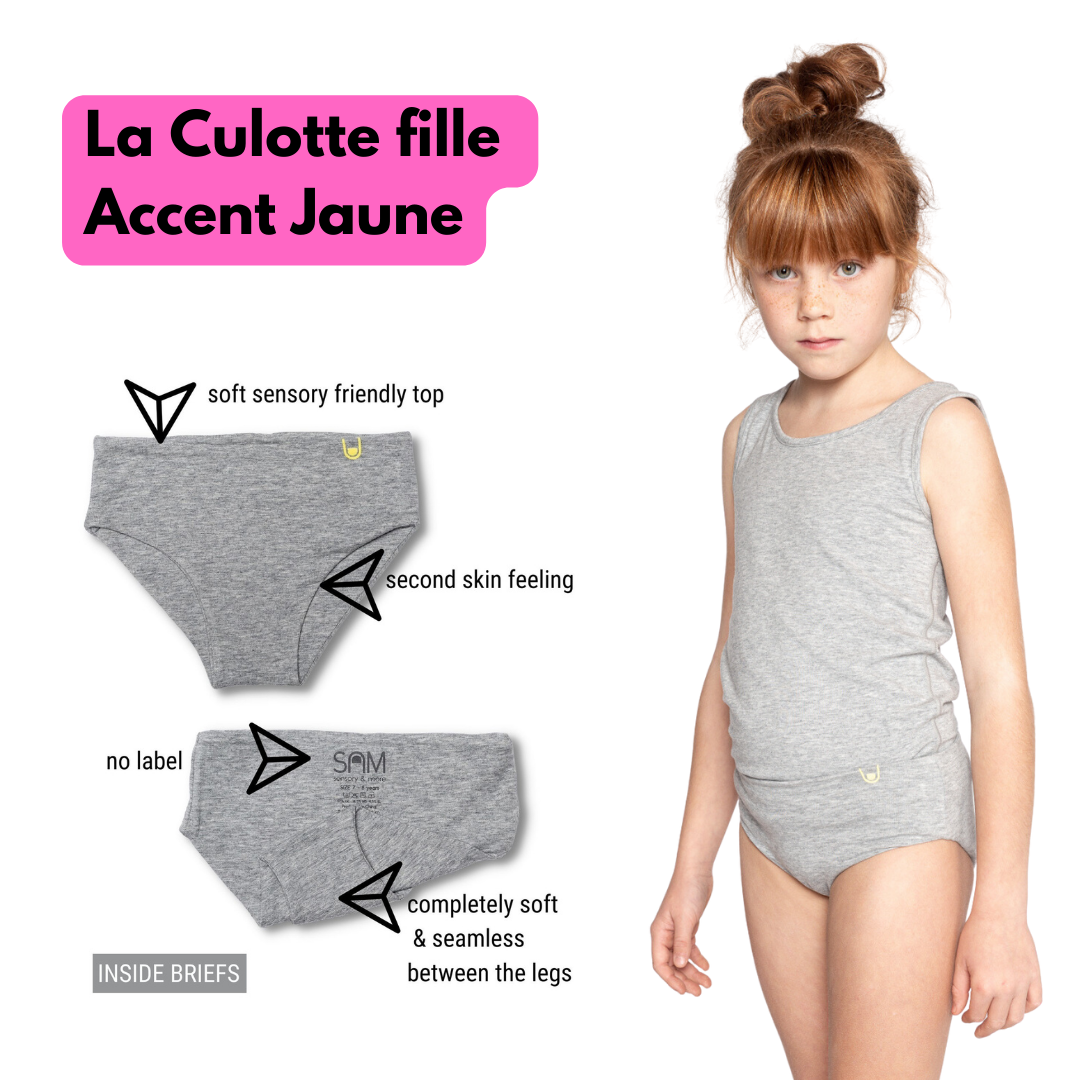 The first noticeable thing is how soft the underwear is! Considering its composition (48% organic cotton, 48% modal [a natural artificial fiber obtained by spinning wood cellulose fibers], 4% elastane)... we can understand that it feels soft and pleasant! The fabric is OCS certified (organic cotton standard). For those who don't know - like myself before writing this article - the OCS 100 standard is based on external auditors confirming that the final product contains sufficient materials from organic sources!
Other notable details... The top of the underwear doesn't have an elastic band, which often feels too loose or tight (both uncomfortable for our hypersensitive children), and that's already a huge plus for the product! Another important point is that there is no label - neither at the back nor on the sides. No seam in the crotch, and we appreciate that! The only seams are those necessary for assembling the underwear - namely at the sides - but even here, I was pleasantly surprised by the quality, as they are not bothersome at all!
To gather my oldest daughter's impressions, I filmed her to accurately represent our conversation. For obvious reasons, you won't see these images, but this is what was said:
How does the underwear feel when you touch it? "Good".
Is there anything bothering you? "No!"
Is it soft? "YES - soft, soft, soft, soft, soft (singing )"
How do you feel wearing it? "Very good!"
Would it maybe be better if we had one that fits your size? Do you want us to buy more underwear like this? "No, no, it's good in this size!"
No, it's too big, honey... No, this is fine! [I don't know where she gets her character from, but apparently, the underwear is accepted!]
The underwear is developed in Belgium with a team of experts and produced in Turkey!
And for maintenance: Wash at 30 degrees Celsius. Do not bleach. Dry flat. Iron at low temperature if necessary.
BAMBOO SENS SOCKS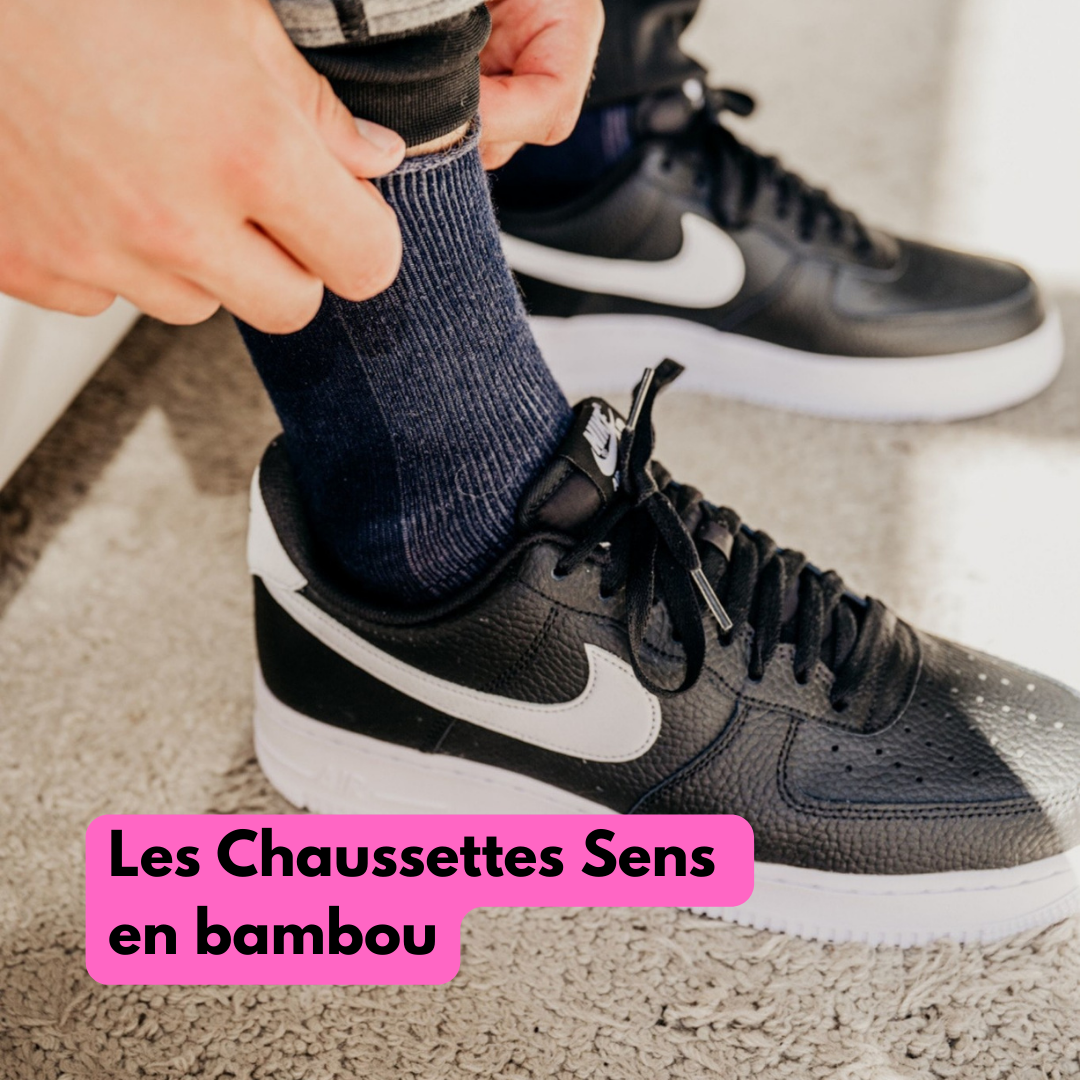 These unisex socks are available from size 27-31 to size 42-46.
No surprises here either... the product is of high quality due to its composition (97% bamboo, 3% elastane)...
The socks are designed without tangible seams or loose threads on the inside. They don't squeeze the ankle, are easy to put on, and have no elastic at the top! Pure enjoyment, indeed!
After trying them on, I asked my oldest daughter to wear a "regular" sock and a SAM sock and choose her favorite. Without any hesitation, she chose the SAM sock! The Bamboo Socks are clearly loved by my oldest!
The socks are developed in Belgium with a team of experts, tested by "sensitive feet," and produced by a family-owned business in Romania.
And for maintenance: Wash at 40 degrees Celsius. Do not bleach. Do not tumble dry or iron!
SIZES
The brand indicates that the underwear runs small. Make sure to take one size larger to avoid problems! Due to hygiene reasons, returns are not accepted!
For the socks, on the other hand, the brand recommends choosing the smaller size when in doubt. The socks have a lot of stretch, making them easy to adjust to the foot!
NOW, LET'S TALK ABOUT THE PRICE...
The underwear - sold in packs of 2 - costs €35.90. The socks - also sold in packs of 2 - cost €30. Some people may find this expensive, while others may not, considering the benefits... I won't judge!
Everyone should do what fits their budget! I will simply provide my own opinion! If you've read this far... you're probably interested! Personally, I prefer a limited but "well" stocked wardrobe with items that are accepted and adapted to her sensory peculiarities!

So, I hope this discovery has made you as excited as it has made me/us. At the time of writing this conclusion, my oldest has already requested the "big underwear" three times.
To discover all the products the brand sells (including their amazing socks), click here!
See you soon! Sandra
Leave a comment